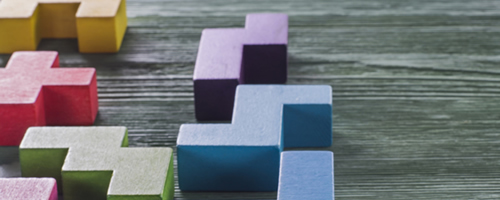 About Our Logo
You may be asking yourself "what is the strange symbol that the project is using as part of its logo?"
Good question!
Here at the National Center for Maternal and Child Health (NCEMCH) at Georgetown University, we put great thought into all aspects of our programs. We also believe that work should be meaningful, effective, and fun. So it's no surprise to learn that there is symbolism in our logo design.
The orange intertwining loops that you see at the top of every page of this site aren't just an abstract design. They are actually a diagram for tying a square knot. A square knot is made of two reverse half-knots and is used to join the ends of two cords. It is known for its strength, ease of use, and adaptability.
For the Strengthen the Evidence for MCH Programs initiative, this imagery is particularly appropriate in that the goal of the project is to join the evidence base to active practice. It is to remind us all working on the project to strengthen our work with professionals in the field, ensure that our resources are easy to implement, and create solutions that are adaptable to real-life situations.
Our MCH font has been developed by our own Aubrey Patsika and represents the colorful diversity of the MCH populations we serve and reminds us to find joy in the work we do. It is used across all of our MCH projects to show consistency in quality and care in providing support to those who serve our nation's women, infants, children, and families.